FAQs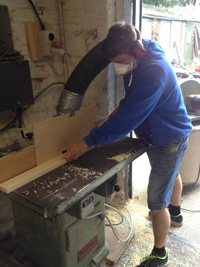 How does it work?
I visit the customer to meet them and get a feel for what they require. I advise them on what I think will work best. I take measurements and go away and work out a quote. If the customer is happy to go ahead, I give them a start date, which is always accurate and put them in the diary. I only ever work on one job at a time. The payment of a deposit of 50% is required after measuring; the remaining balance is due on the day of installation.
Do we have to be here when you fit the job?
No. Most of my customers work. After I have made the furniture, which is all done in the workshop, I arrange a time to collect a key.
Will there be much disruption when it comes to installation?
I am very experienced at working in people's houses and take care at all times. If I am drilling walls etc, I always use dust sheets to ensure minimum mess.
What types of wood do you work with?
I work in pine, and all the hardwoods, including oak, ash, beech, etc. I also work in MDF, it that is what the customer requires.
What type of finish do you use?
I offer spray, oil and hand-painted finishes.
Spray finishes are sprayed on in the workshop, using water-based lacquer, mixed with stains depending what look the customer wants to achieve. Normally it is pine furniture which receives a spray finish.
Oil finish: generally I use oil finishes on hardwood furniture. This is because oil tends to highlight the grain in hardwoods. This is usually Danish or linseed oil.
Hand-painted finish: I often pre-paint furniture for customers. This is all done with water-based eggshell and takes place in the workshop.